Including one-of-a-kind custom-baked goods, make up the Orlando Baking Company product line which includes:

Italian, French, Rye, and Wheat breads; an extensive variety of Subs, Hoagies, Kaisers, and Hamburger Buns; and one of the largest varieties of Dinner Rolls offered by any bakery. Our signature Ciabatta® Bread is becoming a staple on menus across America along with our stonebaked Artisan breads.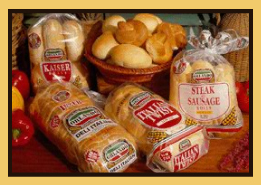 We have an extensive line of sandwich breads and rolls available in grocery stores and neighborhood markets. We also make hundreds of specialty items for large retailers and foodservice outlets.
Our handmade artisan breads grace the tables of restaurants across the country, and line the cases of our stand at the Cleveland West Side Market.
In addition to our premium breads, Orlando also prepares other home items. Orlando breadcrumbs are made from hearth-baked breads and add flavor to every recipe. For snacking, garlic and sesame breadsticks are crunchy and flavorful. If you prefer something sweeter, Anise or Vanilla Pizzelles are the perfect light ending to a meal. They also go great with coffee and tea.