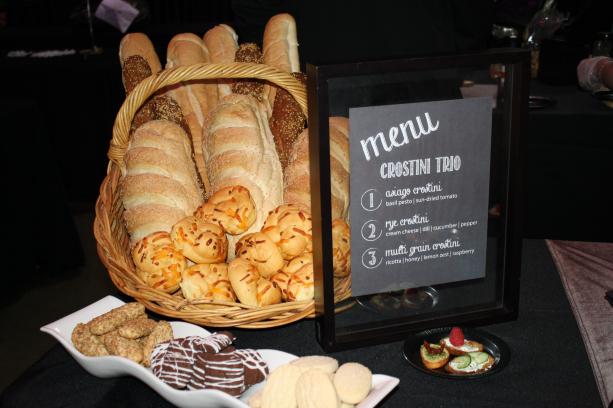 The Greater Cleveland Food Bank marked the 20th annual Market at the Food Bank benefiting Harvest for Hunger on Sunday, May 3, 2015. The event raised over $235,000, which will provide more than 940,000 nutritious meals. 1,100 attendees enjoyed an evening of delicious cuisine, drinks, and entertainment. Orlando Baking Company participated among the 50+ vendors serving fine food throughout the evening. Orlando's menu featured a crostini trio:

Asiago crostini topped with basil pesto and sun-dried tomato
Rye crostini topped with cream cheese, dill, cucumber, and fresh ground black pepper
Multi Grain crostini topped with ricotta cheese, lemon zest. honey, and a raspberry
Crostini means "little toasts" in Italian. Orlando Crostini are made from our Classic Ciabatta bread for a more authentic European style, taste, and texture. Each crostini is baked to perfection, lightly brushed with rich olive oil, and sprinkled with sea salt. Perfect with dips, spreads, meats, and cheeses as well as great for enhancing soups and salads.
The Greater Cleveland Food Bank provides food and non-food items to more than 750 programs in a six county service area, consisting of Ashland, Ashtabula, Cuyahoga, Geauga, Lake and Richland Counties. See more at:
http://www.greaterclevelandfoodbank.org